Page 4 - Impact Fall 2017
P. 4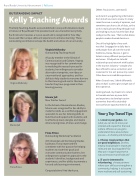 Royal Roads University Advancement | Fall 2017
[Meet: Paula Lewis, continued]
ouTstanding impact
Kelly Teaching Awards
The Kelly Teaching Awards were established in 2003 with donations made in honour of Royal Roads'  rst president and vice-chancellor Gerry Kelly.
Each instructor receives a $1,000 award and is recognized for how they have used their unique skills and experience to enhance learning. These outstanding contributions shape the health and culture of our university.
Virginia McKendry
Virginia McKendry
Outstanding Teaching Award
A faculty member in the School of Communication and Culture, Virginia was recognized for her commitment
to modeling the research process for students; her willingness to consider alternative viewpoints, new ideas or unconventional approaches; and her ability to help students overcome barriers to their learning and see for themselves how far they have progressed in their learning journey.
Marnie Jull
New Teacher Award
In the School of Humanitarian Studies, Marnie was recognized for her ability to model her skills as a con ict engagement specialist; to use her listening skills to build trust and rapport with students; and to effectively lead, energize and inspire others during times of stress and change.
Fiona Prince
Outstanding Workshop Facilitation
A Professional and Continuing Studies facilitator, Fiona impressed the committee with her passion for helping students to reach their goals and overcome communication barriers; her willingness to adapt her approach to the students' identities, backgrounds and experiences; and her ability to promote a fun and safe learning environment.
Congratulations! And thank you.
Marnie Jull
Fiona Prince
work term I was gathering information from lots of sources to review. In many cases there are a variety of opinions, and sometimes you have a lot of data, so the work is really about sifting through it all and making sure you have the facts that really prove the case. That is what allows people to make informed decisions.
One of the highlights of my work
was that I engaged on a daily basis with people from all over the world: California, Korea, Mexico. I got to listen to many different perspectives and views. It helped me to build relationships and network with leaders in the tourism industry—people who have offered to serve as mentors and resources for me as I pursue my career. It has been an incredible experience.
When I travel now, I think differently about what I want to give and get out of the experience.
Looking ahead, my dream is to return to Grenada and use my new skills
and experience to develop tourism economies that will sustainably increase future opportunities for all.
Your 3 Top Travel Tips
1. Listen to your guides. Ask what you can do to show your interest and respect for the local culture. Where can you go to understand more about where you are—its history and its future?
2. Choose travel partners that are good neighbours. Do they employ local people in important roles and use local suppliers? Do they act in ways that preserve natural resources and habitats?
3. If you're interested in volunteering, choose partners where your skills can strengthen a community, helping it to become more resilient and self-sustaining.