Page 8 - Professional and Continuing Studies Calendar, Fall 2018
P. 8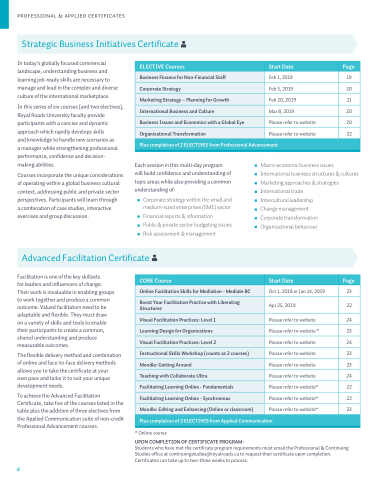 PROFESSIONAL & APPLIED CERTIFICATES
 Strategic Business Initiatives Certificate
  In today's globally focused commercial landscape, understanding business and learning job-ready skills are necessary to manage and lead in the complex and diverse culture of the international marketplace.
In this series of six courses (and two electives), Royal Roads University faculty provide participants with a concise and dynamic approach which rapidly develops skills
and knowledge to handle new scenarios as a manager while strengthening professional performance, confidence and decision- making abilities.
Courses incorporate the unique considerations of operating within a global business cultural context, addressing public and private sector perspectives. Participants will learn through
a combination of case studies, interactive exercises and group discussion.
Each session in this multi-day program will build confidence and understanding of topic areas while also providing a common understanding of:
■■ Corporate strategy within the small and medium-sized enterprises (SME) sector
■■ Financial reports & information
■■ Public & private sector budgeting issues ■■ Risk assessment & management
■■ Macro-economic business issues
■■ International business structures & cultures ■■ Marketing approaches & strategies
■■ International trade
■■ Intercultural leadership
■■ Change management
■■ Corporate transformation
■■ Organizational behaviour
 ELECTIVE Courses
  Start Date
  Page
  Business Finance for Non-Financial Staff
  Feb 1, 2019
   19
  Corporate Strategy
 Feb 5, 2019
  20
 Marketing Strategy – Planning for Growth
 Feb 20, 2019
 21
  International Business and Culture
  Mar 8, 2019
 20
  Business Issues and Economics with a Global Eye
   Please refer to website
  20
  Organizational Transformation
  Please refer to website
  22
   Plus completion of 2 ELECTIVES from Professional Advancement
            Advanced Facilitation Certificate
  Facilitation is one of the key skillsets
for leaders and influencers of change. Their work is invaluable in enabling groups to work together and produce a common outcome. Valued facilitators need to be adaptable and flexible. They must draw on a variety of skills and tools to enable their participants to create a common, shared understanding and produce measurable outcomes.
The flexible delivery method and combination of online and face-to-face delivery methods allows you to take the certificate at your
own pace and tailor it to suit your unique development needs.
To achieve the Advanced Facilitation Certificate, take five of the courses listed in the table plus the addition of three electives from the Applied Communication suite of non-credit Professional Advancement courses.
* Online course
UPON COMPLETION OF CERTIFICATE PROGRAM:
 CORE Course
  Start Date
  Page
  Online Facilitation Skills for Mediation - Mediate BC
  Oct 1, 2018 or Jan 14, 2019
   23
  Boost Your Facilitation Practice with Liberating Structures
 Apr 25, 2019
  22
 Visual Facilitation Practices: Level 1
  Please refer to website
  24
  Learning Design for Organizations
 Please refer to website *
  23
  Visual Facilitation Practices: Level 2
   Please refer to website
  24
  Instructional Skills Workshop (counts as 2 courses)
 Please refer to website
  23
  Moodle: Getting Around
  Please refer to website
 23
  Teaching with Collaborate Ultra
   Please refer to website
  24
  Facilitating Learning Online - Fundamentals
 Please refer to website*
  22
  Facilitating Learning Online - Synchronous
   Please refer to website*
  22
  Moodle: Editing and Enhancing (Online or classroom)
  Please refer to website*
  23
   Plus completion of 3 ELECTIVES from Applied Communication
           6
Students who have met the certificate program requirements must email the Professional & Continuing Studies office at continuingstudies@royalroads.ca to request their certificate upon completion. Certificates can take up to two-three weeks to process.