Page 25 - Professional & Continuing Studies Calendar, Fall 2017
P. 25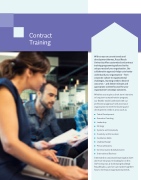 Contract Training
With an eye on current trends and development themes, Royal Roads University offers customized and contract training programming tailored to the unique needs of your organization. Our collaborative approach helps us to better understand your organization – from corporate culture to organizational challenges, learning needs to desired outcomes – and deliver relevant and appropriate content focused for your organization's strategic outcomes.
Whether you require a short term intensive or long term comprehensive program,
our  exible model combined with our professional approach will assist your organization to meet the learning and development needs in areas such as:
■  Talent Development
■  Executive Coaching
■  Leadership
■  Strategy
■  Systems and Complexity
■  Creativity and Innovation
■  Facilitation Skills
■  Leading Change
■  Personal Mastery
■  Communication & Collaboration
■  International Business
Interested in customized learning but don't don't see what you're looking for on this list? Contact us at Continuing.Studies@ RoyalRoads.ca and we can explore together how to meet your organizational needs.